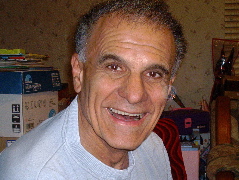 Specialist of Armenian Dance, Music, Choreography and
Dance Ethnography

Dance Workshops/Group and Private Classes
Stage choreography
Lectures with Video Presentations
Middle Eastern Orchestra
American-European DJ

562-941-0845
bozigian@earthlink.net

Tom Bozigian, of Los Angeles, California, is an internationally recognized dance instructor. He is a graduate of the Armenian State Choreographic Academy and also holds a Bachelor of Arts Degree (B.A.) in Russian Area Studies and a Master of Arts Degree (M.A.) in Education from Fresno State University. He is fluent in three languages: English, Armenian and Russian. He unites the elements of professional dancer-choreographer/linguist/musician to support his far-reaching research on the subject of Armenian dance ethnography. Tom Bozigian is particularly sought out for his extensive knowledge of dances from the pre-1915 period and has presented some of his material to institutes and ensembles throughout Armenia. His dance expertise also covers dances of the Armenian Diaspora and new folk dances. Tom Bozigian's teaching has taken him to most continents of the world. He has been commissioned to set suites of Armenian dances for both Armenian and non-Armenian dance ensembles in various countries, and he regularly tours the Orient and Europe teaching Armenian dance.

Along with his teaching courses, which includes instruction in Russian character, Lebanese (Dabke) and Greek folk dances, Tom Bozigian leads a folklore orchestra which has produced numerous recordings. He is an accomplished percussionist with nearly 45 years of performance experience as a dancer/singer/musician.

Tom Bozigian was born in Los Angeles, California to Armenian parents. His father immigrated to America from Gumri-Alexandropol, Armenia. His mother's parents immigrated from Kharpert, East Anatolya (father) and Varna, Bulgaria (mother). The family moved to Fresno, California in the early 1940's, where Tom was raised and educated. There he learned Armenian language, music and dance from both Caucasian and Anatolian Armenians who had immigrated to this fertile agricultural area in the San Joaquin Valley and continued to maintain the many songs and dances representing their many regions. The 1920's through 1960's were peak periods of ethnic activity in Fresno and it was during this time, beginning in the late 1940's, that Tom developed a life-long love of original Armenian song and dance.

In 1968, Tom moved back to Los Angeles where he taught Russian studies in the Pasadena School System. An award winning athlete in his youth, Tom continued his dance training in Los Angeles studying ballet as well as Armenian dance with the noted choreographer Jora Markarian. This led to an invitation from the Soviet Armenian government in the early 1970's for Tom to study at the State Choreographic School, Sayat Nova. During his 3-year stay in Armenia studying classical, Russian character and Armenian dance, Tom participated in regional field research filming and recording provincial songs and dances throughout the country. Much of this was coordinated with the University of Yerevan Ethnographic Institute.
After graduating from the choreographic school in Armenia and returning to Los Angeles in 1975, Tom Bozigian made the decision to devote his career full-time to the preservation, performance and instruction of original Armenian song and dance. Each year Tom travels to Armenia to continue teaching and research, working with various institutions and dance specialists such as Artashes Karapetyan of the Mankavarzhakan Institute for Dance as well as with folk musicians. Areas throughout Armenia, including other countries, are targeted and visited for the purpose of drawing analogies of original dances from both Armenia and the Diaspora.

In Los Angeles Tom continues with classical dance training and studies musical arrangement and harmony. Presently, he teaches weekly classes in Armenian dance in southern California and plays with his trio of folk musicians who have recently recorded two CD's. He also regularly records with the Armenian State Television Ensemble for Folk Instruments which has also been included on his CD's.